#1 Chicken Shish and Hummus
#2 Chicken Lula and Hummus
#3 Beef Lula and Hummus
#4 Beef Shish and Hummus
#5 Chicken Breast and Hummus
#6 Boneless Rainbow Trout
#7 Chicken Shish Kabob
#8 Chicken Lula Kabob
#9 Chicken Sultani
#10 Chicken Breast Kabob
#11 Beef Shish Kabob
#12 Beef Lula Kabob
#13 Beef Sultani
#14 Lula Combination
#15 Shish Combination
#16 Beef Shish and Chicken lula
#17 Beef Lula and Chicken Shish
#18 Chicken Shish Kabob Sandwich
#19 Chicken Lula Kabob Sandwich
#20 Beef Lula Kabob Sandwich
#21 Chicken Breast Kabob
#22 Mediterranean Chicken Sandwich
#23 Beef Shish Kabob Sandwich
#24 Veggie Sandwich
#25 Chicken Shish Kabob Salad
#26 Chicken Lula Kabob Salad
#27 Chicken Breast Salad
#28 Veggie Platter
919 S. Glendale Ave.
Glendale, California 91205
818.242.3150
Mon – Sat 10 AM to 9PM
Sun – 11 AM to 8PM
6424 San Fernando Rd.
Glendale, California 91201
818.396.0506
Mon – Sat 10 AM to 7PM
Sun – CLOSED
Kabab(also known as Kabob or Kebab) refers to a variety of meat dishes in Middle Eastern, Mediterranean, African, Central Asian, and South Asian cuisines, consisting of grilled or broiled meats on a skewer or stick.
Why Choose Kabab Way?
All our dishes are prepared using fresh produce. The ingredients are simple and original. The food does not touch any surface while cooking above the flames.
That's why Kabab Way = No Heart Burn.
– High Quality –
– Great Service –
– Low Prices –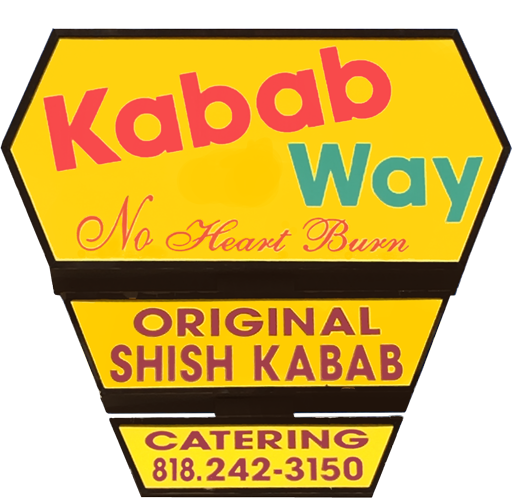 Welcome to Kabab Way
Experience an eclectic mix of flavors from Middle Eastern, Armenian, and Mediterranean cuisines with American standards of service. Our Promise of Best Shish Kabob – Best Value in Town is backed by two generation of food preparation with authentic recipes, highest quality ingredients, and uncompromised customer satisfaction. When you want food that is tasty AND healthy, fresh AND fast, excellent AND affordable, Kabab Way is the only way to go. Don't feel guilty. You are eating healthy.
Kabab Way
Mon – Sat 10 AM to 10PM
Sun – 11 AM to 8PM
Kabab Way
Mon – Sat 10 AM to 9PM
Sun – 11:30 AM to 7PM